NEXT
PREV
Zoom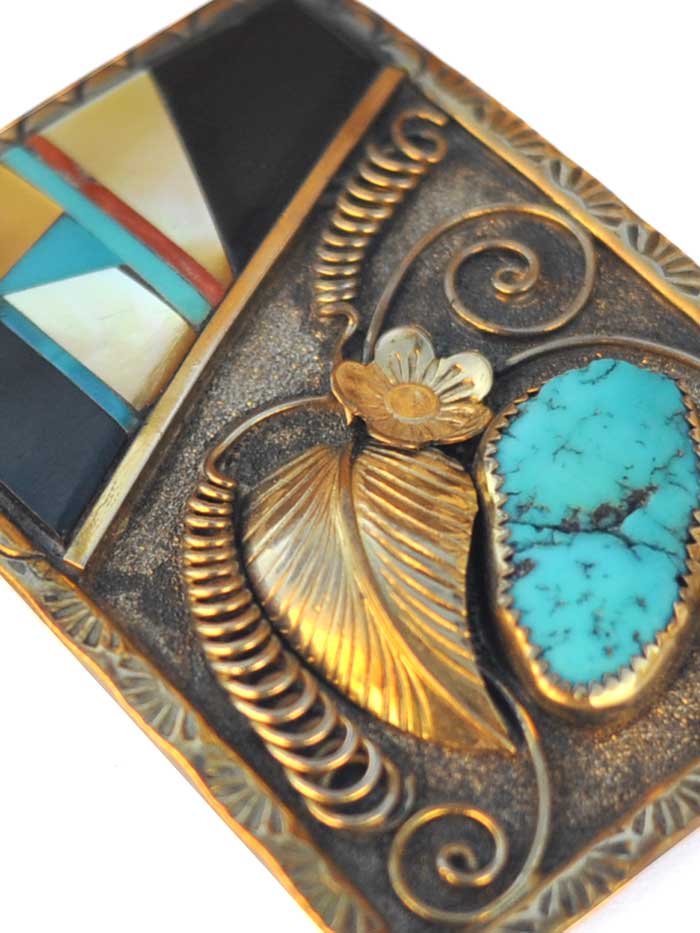 Johnson & Held EKINGFLORAL Sterling Silver Gold Leaf Turquoise Stone Belt Buckle
If you have trouble accessing materials on this web site or need further accommodation, please call (561)748-8801, Mondays through Fridays from 9am to 8pm Eastern Time excluding major holidays.
Please note that, although every efforts is made to photograph items accurately, there can be no guarantee every computer monitor will accurately depict the actual color of the merchandise.
JCWesternwear.com Pricing is Only Valid when Purchasing Online. Not Valid at our Retail Stores. Certain Products are Available Online Only. Please Call for IN-STORE Availability.
Johnson & Held EKINGFLORAL Sterling Silver Gold Leaf Turquoise Stone Belt Buckle
Johnson & Held EKINGFLORAL Sterling Silver Gold Leaf Turquoise Stone Belt Buckle- Native American Art

Intricately designed sterling silver Navajo belt buckle with a turquoise stone, mother of pearl & many handcrafted 12K gold embellishments and leaves on the sterling silver.
100% Handcrafted
Made in the USA
12K Gold on Sterling Silver
Turquoise stone, mother of pearl
Native American Art
Width: 3"
Height: 2"
Style# EKINGFLORAL
100% Handcrafted in Denver, Colorado, United States. #EKINGFLORAL

For over thirty years we have made our buckles by hand in our workshop in the foothills of the Rocky Mountains. We hope you love wearing them as much as we love making them.
Handcrafted : When we say handcrafted, we mean every process is done by hand. We use a jeweler's saw to cut the metal. A jeweler's saw is about the size and shape of a paint roller. The blade looks like a straightened paper clip with edges. We inlay stone and wood with tweezers. When our engraver, he rotates his wrist to drive a screwdriver like tool into the metal. He focuses on every individual mark. We practice an old craft and do fine work.
Handcrafted matter : Folks say the devil is in the details. This is detailed work. Every handcrafted buckle is a unique piece of art. When you buy a handcrafted buckle, you buy it to make a statement.
The difference between a cast buckle and a handcrafted buckle : Each handcrafted buckle takes several hours to create. Each buckle requires meticulous construction by our craftsmen. Cast buckles require crafting one mold and then replicating each buckle. There is craftsmanship in casting as well, but it's a different style of buckle. Here's an analogy. Buying a cast buckle is like buying a poster or print. Buying a handcrafted buckles is like buying an original painting.
western belt buckles, cowboy buckles, cowgirl buckles, rodeo buckles, silver buckles, hand made buckles, handcrafted buckles, USA buckles, American made belt buckles,flag buckles, premium belt buckle, USA made buckle, MADE in U.S.A. buckle, American made buckles, country style buckles