Stetson Men's Collection Western Shirt 11-001-0478-6028 BR
Stetson Y/D Plaid W/Satin Stitch
1 Pt. Ultra Deep Back Yoke
Contrast Inside Trim
Stetson "S" Emb
"Stetson" Emb On Rt. Sleeve Placket
3 Snap Cuff
Classic Snap Front Featuring Logo Snaps
Please note that, although every efforts is made to photograph items accurately, there can be no guarantee every computer monitor will accurately depict the actual color of the merchandise.
JCWesternwear.com Pricing is Only Valid when Purchasing Online. Not Valid at our Retail Stores. Certain Products are Available Online Only.
Please Call for IN-STORE Availability.
Product Description
Stetson Men's Collection Western Shirt
Stetson Y/D Plaid W/Satin Stitch
1 Pt. Ultra Deep Back Yoke
Contrast Inside Trim
Stetson "S" Emb
"Stetson" Emb On Rt. Sleeve Placket
3 Snap Cuff
Classic Snap Front Featuring Logo Snaps
About Stetson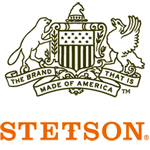 The John B. Stetson Company, founded by John B. Stetson in 1865, was the maker of the Stetson cowboy hats, but ceased manufacturing in 1970. Stetson hats are now being manufactured in Garland, Texas, by Hatco, Inc., who also produce Resistol and Charlie 1 Horse hats.
Stetson resumed manufacturing in the 1980s, but the company went bankrupt in 1986. It was purchased by Hat Brands, a company owned by Irving Joel.
Since 2009, Stetson has been owned by Pro Equine Group.
11-001-0478-6028 BR , 1100104786028BR , men's western shirts , men's stetson western shirts , cowboy shirts , men's longsleeve shirts , men's plaid shirts