Stetson Big Sky Crushable Felt Hat – OWBIGS-8132-MU
Leather hat band Big Sky crushable wool hats from the Stetson Outdoors Collection.
Color: Mushroom
Brim: 3 1/4″
Sizes: S-M-L-XL
Please note that, although every efforts is made to photograph items accurately, there can be no guarantee every computer monitor will accurately depict the actual color of the merchandise.
JCWesternwear.com Pricing is Only Valid when Purchasing Online. Not Valid at our Retail Stores. Certain Products are Available Online Only.
Please Call for IN-STORE Availability.
Product Description
Stetson "Big Sky" Crushable Felt Hat
This Stetson crushable felt hat features a leather hat band decorated with studs
Color: Mushroom
Brim: 3 1/4″
Sizes: S-M-L-XL
About Stetson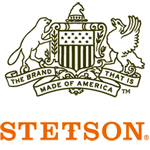 In 1865, with $100, John B. Stetson rented a small room, bought the tools he needed, bought $10 worth of fur and the John B. Stetson Hat Company was born. A year later the "Hat of the West" or the now famous "Boss of the Plains" hat was born and the name Stetson was on its way to becoming the mark of quality, durability, innovation and beauty.
Today the Stetson hat factory in Garland, Texas is one of the largest in the country and produces a line of hats in hundreds of different styles and colors. In spite of this size, however, classic styling and premium quality remain as the driving forces behind each and every hat. As a result, Stetson hats are the most well known hats in the world. Wherever and whenever hats are discussed Stetson will be mentioned.
Stetson is the standard in hats, the essence of the spirit of the West and an icon of everyday American lifestyle. Because of its authentic American heritage, Stetson remains as a part of history and, for the same reason will continue into the future.
TOWBIGS-8132-MU, OWBIGS8132MU, cowboy hats, men's western hats , men's felt hats , men's premiere leather hats , women's felt hats , cowgirl hats , men's stetson hats , cowboy hat , men's stetson hats , women's stetson hats , unisex hats , fashion hats